According to Houzz, Smart Features Are in the Forefront of Renovation Choices:
Renovating homeowners are integrating "smart" features into their homes, according to the 2016 U.S. Houzz Smart Home Trends Survey, conducted in collaboration with CEDIA. The survey of nearly 1,000 homeowners in the midst of, planning, or who have recently completed a home renovation project found that nearly half of renovating homeowners are incorporating "smart" technology: systems or devices that can be monitored or controlled via smartphone, tablet or computer (45 percent). In fact, renovated homes are more than twice as likely to include a smart system or device than before the renovation (51 versus 20 percent, respectively). Nearly a third of upgraded smart home systems or devices can be controlled via a central hub (30 percent), and a quarter include voice-controlled features (26 percent). Homeowners report greater levels of satisfaction with their upgraded smart features than their non-smart features.


Homeowners are installing smart devices for security/safety (25 percent), entertainment (18 percent), climate control (14 percent) and lighting (12 percent) in their renovated homes. The top smart security/safety devices include fire and gas alarms, and cameras (in 9 percent of renovated homes, each), followed by motion, glass breakage and/or door sensors, door locks and/or video doorbells (5 percent each). A third of upgraded alarms and two-thirds of upgraded cameras have smart features. Additionally, 12 percent of renovated homes include a smart thermostat – 40 percent of upgraded thermostats or temperature controls are smart. Eight percent of upgraded homes feature a smart TV, and seven percent include smart speakers or video/music streaming devices. When it comes to lighting, 11 percent of renovated homes include smart indoor lighting, and 4 percent include smart outdoor lighting.


"Our data shed light on how renovating homeowners are embracing smart technology," said Nino Sitchinava, principal economist at Houzz. "These homeowners aim to improve the comfort, convenience, safety, and energy usage of their home during their renovations, and smart technology appears to address many of their needs. While many homeowners report difficulty learning about and finding the right smart products to fit their needs, high levels of adoption and satisfaction among renovators are sound predictors of a wider reliance on these technologies among the general public in the near future."
Smart Spending
Spending on smart systems and devices differs depending on the technology type. The majority of smart home security/safety upgraders spend $1,500 or less on their new/updated features (76 percent), while only 5 percent invest more than $5,000. There is greater variability in the cost of smart entertainment upgrades, with half spending $1,500 or less (48 percent), and another half investing more than $1,500 (52 percent). One-fifth of entertainment upgraders spend more than $5,000 on their new technology (21 percent). Similarly, nearly half of smart lighting upgraders spend $1,500 or less (47 percent), while just over half spend more than $1,500 (53 percent). In terms of smart climate control technology, homeowners rarely spend within the $1,501-$2,500 range. Instead, half of renovating homeowners report spending under $1,501, and another half spend more than $2,500 (50 percent and 46 percent, respectively). Similar to entertainment upgraders, a fifth of renovating homeowners updating climate control systems invest more than $5,000 in their new features (21 percent).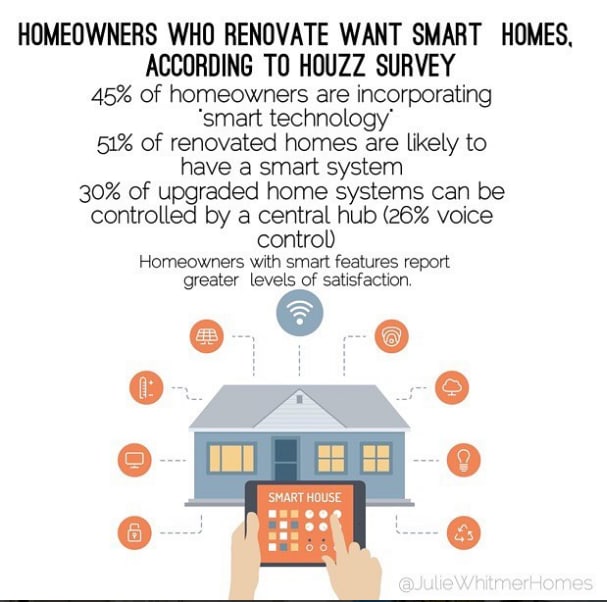 Motivations
Homeowners select features with smart technology for a variety of reasons. For security/safety devices, protecting their homes against intruders (67 percent), and monitoring/controlling the safety of their home when they are away (52 percent) or from anywhere in the home (30 percent) are of primary concern. Protection against intruders is a stronger motivation for those installing smart security/safety features than those installing non-smart options (67 versus 51 percent, respectively). When it comes to smart entertainment devices, improving the entertainment experience (80 percent), the comfort of the home (55 percent) and the desire to have the latest technology or to change the mood or vibe of the home are paramount (27 percent each)


Smart climate control features are selected to improve the comfort of the household (71 percent), reduce energy consumption (68 percent) and to monitor or control their device while away from home (41 percent). In terms of lighting, homeowners are motivated to include smart tech to reduce energy consumption (59 percent), improve the comfort of the household (54 percent) and have the ability to change the mood or vibe of the home (34 percent).
Challenges and Barriers
The top two challenges renovating homeowners face when it comes to incorporating smart home features are educating themselves about available options and finding the right products/technology. This is consistent for security/safety, lighting, climate control and entertainment features. Over half of renovating homeowners opted against adding smart technologies during their renovation projects (55 percent). Among those non-adopters, only a third gave the technologies some consideration (34 percent), but ultimately decided not to go the smart tech route due to a lack of interest (37 percent), cost concerns (31 percent), or privacy concerns (23 percent).
The majority of renovating homeowners rely on professional help for the installation of both smart and non-smart security, climate control and lighting products, though they are even more likely to turn to pros in the case of smart technology upgrades in these categories. This is especially true for the installation of smart alarms and fire/gas detectors (67 percent turn to pros versus 46 percent of those installing non-smart solutions), motion-sensing lighting (63 percent versus 45 percent) and cameras (42 percent versus 21 percent). However, renovators upgrading entertainment systems/devices enlist professional help to a lesser extent than those upgrading security or safety. TVs and music streaming devices with smart features are more likely to require professional installation (38 percent and 27 percent, respectively) than those without smart capabilities (26 percent and 17 percent, respectively).