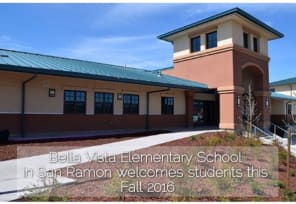 Located at 1050 Trumpet Vine Lane, BELLA VISTA ELEMENTARY is the newest addition to the SRVUSD. Funded through the Measure D school bond, this elementary school will accommodate approx. 830 K-5th grade students on a 7.4 acre site.


More info from Danville Patch:
Bella Vista Elementary will be led by Principal Barbara Mallon, formerly principal at Twin Creeks Elementary, Ms. Mallon has been an educator for over 30 years. During her career, she has held a variety of positions including: Gifted and Talented Education (GATE) Coordinator, Director of Curriculum & Instruction, instructional assistant, special education teacher, and a general education teacher.

Bella Vista Elementary School will open as the first elementary school in the District with Project Launch – a program focused on Science, Technology, Engineering and Math (STEM). Project Launch is the elementary pathway of the middle and high school program Project Lead the Way. This program focuses on activity-, project-, and problem-based STEM curriculum, providing students a chance to apply what they know, identify problems, find unique solutions, and lead their own learning.

The dedication is the first step in the much anticipated opening of a school that will provide relief to the elementary schools in the Dougherty Valley in San Ramon. This school was made possible through a unique three-way partnership between the City of San Ramon, Shapell Homes (now Toll Brothers), and the SRVUSD.

"We are grateful for our partnerships with the City of San Ramon and Shapell Homes/Toll Brothers who helped our District make this school a reality," SRVUSD Board President Greg Marvel said. "Through our partnerships, we have built a school that offer families in the Dougherty Valley another excellent campus where students will receive a top quality education in the San Ramon Valley Unified School District."

Shapell Homes and the City of San Ramon provided the land to the School District, with the play fields also serving as permanent joint-use parkland for the City. This partnership continues the joint-use cooperation and sharing between the City and the School District that exists at the other schools in San Ramon, and has become a model for other communities.

"One of the things that makes the San Ramon community special are the unique private and public partnerships. In this Valley, we work together to provide excellent amenities and services for our citizens," San Ramon Mayor Bill Clarkson said. "Bella Vista Elementary School is another example of how we collaborate to create a wonderful environment for families to grow and thrive."

The school construction was funded through the $260 million Measure D school facilities bond approved in 2012. The new school has been built to accommodate approximately 830 kindergarten through 5th grade students, on a 7.4 acre site located approximately 1/2 mile southwest of the Dougherty Station Community Center and Library. The school site is located across the street from the City's new 30-acre community park.

The school is designed by Quattrocchi Kwok Architects (QKA) and includes two-story classroom buildings, a multipurpose building, a library, and administration and after-school childcare spaces. Design features include strategic building positioning and operable windows to allow for natural ventilation in all classrooms, energy efficient lighting and mechanical systems, drought tolerant landscaping and recycled water for irrigation.

Bella Vista Elementary will be SRVUSD's 36th school and the fifth elementary campus in eastern San Ramon.