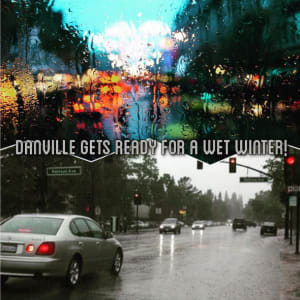 Are you ready for a few months of much needed rain? With El Niño on it's way, the Town of Danville has ensured a safe season with its completed maintenance of storm drains, waterways, and drainage systems.
From Town of Danville official site:

Every August the Town of Danville's maintenance department takes on the monumental task of cleaning and clearing miles of roadside ditches, concrete lined ditches, culverts, creeks and storm drain inlets. This task must be completed in the creeks by October 15th, in accordance with California Department of Fish and Wildlife regulations.


Some of this work is contracted out to others and overseen by Town of Danville maintenance staff members, while most of it is done by in-house staff. Even with all of this work completed there are on occasion instances of flooding in some Danville neighborhoods, which could have been avoided. In many instances debris left in private drainage structures became serious problems when they entered the public drainage system.


Firewood, grass clippings, tree trimmings, etc. that is dumped or left on the banks of both private and public waterways become obstructions when they hit the public drainage system. These grass clippings, stacked firewood and tree trimmings become lodged in pipes and then as the storm waters continue to bring additional debris downstream the pipes become clogged and flooding occurs. Another major cause of flooding in the Town is due to obstructed storm drain inlets.


Not all creeks are maintained by the Town. There are generally three jurisdictions within the Town limits that have responsibilities for creek maintenance. There are those maintained by Contra Costa County Flood Control, those that are privately maintained and the Town maintained creeks. To determine responsibility for creek maintenance in your area you can call the Development Services department with the Town at 314-3310.


The Town of Danville is asking residents to make sure that when they rake up their leaves and other yard waste that this is disposed of into the residents green waste bins, rather than being pushed out into the street for the Town to take care of. This debris in the roadway can cause a number of problems which include;
Clogging or damage to storm drains
Potential traffic hazard
Debris piles attract rodents
Increased costs to the Town for disposal


Keeping Danville's streets clean in the fall is a monumental task and when yard waste such as leaves finds its way to the street the street sweepers cannot handle this volume of debris. Residential streets are swept once a month to keep curb gutters and storm drains clear and to prevent the accumulation of rainwater. You can find your scheduled sweeping day on the Town website:
Danville
. Please help the street sweepers by not parking in the street on your scheduled sweeping days and by not putting leaves from your yard into the street.